Commercial
We specialise in commercial renovations and refurbishments, from small scale warehouses with bespoke storage facilities through to large international distribution centres. Our turn-key solutions aim to cause minimal disruption to your commercial premises.
Increase your commercial workspace with mezzanine flooring, expand your warehouse storage capacity with bespoke racking or install functional yet aesthetic suspended ceilings. The quality, durability and style ensure our renovations and refurbishments are an asset to any commercial premises.
Bespoke Interior Solutions
In addition to providing additional storage or workspace, a commercial renovation can improve workforce efficiency and streamline your business processes with bespoke racking and mezzanine flooring solutions.
We work directly for main contractors, end users, design consultants and architects offering commercial refurbishments including planning, design, supply and installation throughout the south covering Hampshire, Dorset, Wiltshire and Buckinghamshire.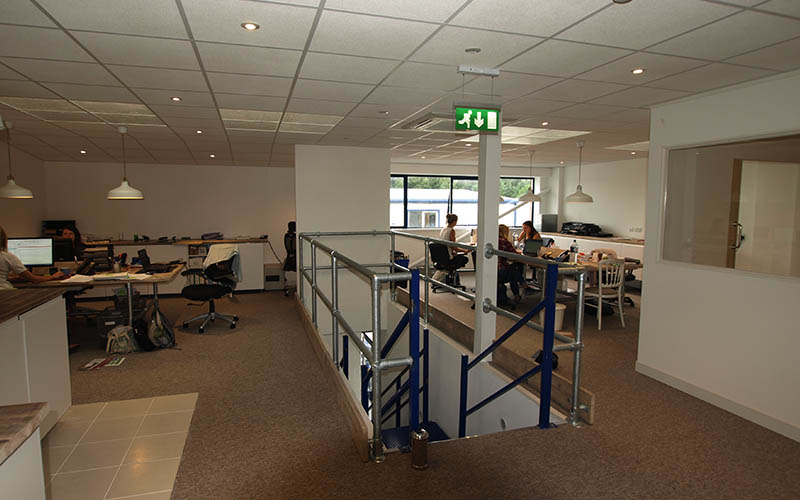 Construction (Design & Management) 2015 Compliant
From additional warehouse storage to expanded workspace, we ensure your interior solutions conform to the latest building regulations, in addition to fire, health and safety policies. With over thirty years' commercial experience, you can rely on our high quality workmanship.
---
"The work was carried out whilst I was away on annual leave, but the finished product is a really good addition to AFC Bournemouth's broadcast interview rooms, and we are very happy with RDP."
"RDP installed a multi-angled acoustic suspended ceiling and new lighting. They were excellent, good all round, quick, competitive."
"Very fast, neat and tidy. Very professional. Highly recommended!"
---
We work with a range of commercial clients including but not limited to G3, Babcock International & AFC Bournemouth. We also offer renovations and refurbishments for office and retail environments.